---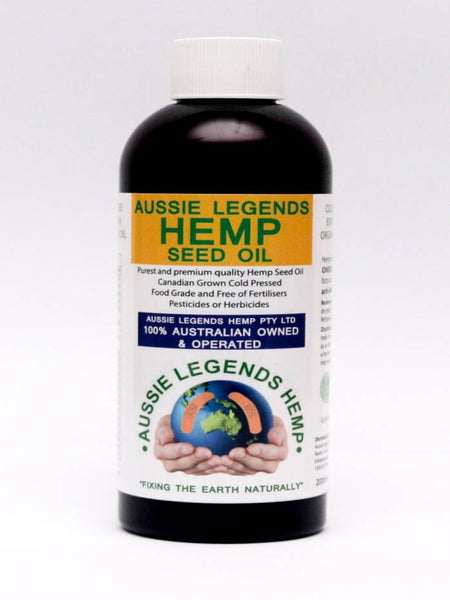 "NEW" HEMP SEED OIL 200ml Food Grade "NEW" (Includes Shipping)
$28.00
"Help Fix Yourself & Heal Our Planet!"
Aussie Legends Hemp Seed Oil has been grown in Manitoba Canada, however bottled, labelled, finished & distributed in Australia. Aussie Legends Hemp Seed Oil is ORGANIC, COLD PRESSED, RAW, THC FREE, GMO FREE and VEGAN friendly. Our Hemp Seed Oil has been grown with NO: Herbicides, Pesticides, or Agricultural Chemicals.
Aussie Legends Hemp Seed Oil contains naturally occurring Omega 6 and Omega 3 in the ideal ratio of 3:1, plus the added bonus of Omega 9. Hemp Seed oil is made up of over 80% Essential Fatty Acids, including anti-inflammatory GLA (Gamma linolenic acid).
The Essential Fatty Acids are vital for good health but cannot be manufactured by our body, and so they must be present in our diet through the foods we eat. EFAs are both important components of cell membranes and are precursors for substances in the body involved with regulating blood pressure and inflammatory responses. 
"Hemp seed oil typically contains 50–70% linoleic acid (LA; C18:2, an omega-6 fatty acid) and 15–25% α-linolenic acid (ALA; C18:3, an omega-3 fatty acid),273 which is roughly in the 3:1 ratio that matches our nutritional needs. Furthermore, hemp seed oil provides significant amounts of some higher fatty acids such as GLA (C18:3; omega-6) and stearidonic acid (SDA; C18:4; omega-3).273Oleic acid (C18:1) and saturated fatty acids (mainly palmitic, stearic acids) both make up about another 10% of the oil.27. In some hemp varieties, the omega-9 fatty acid eicosenoic acid (EA; C20:1) is present in amounts up to 0.5%;273,277 however, most varieties typically contain much less".
Published by: Arno Hazekamp, ... Renee L. Ruhaak, in Comprehensive Natural Products II, 2010 
"Dietary n-6 and n-3 fatty acids in immunity and autoimmune disease" were studied and published by Laurence S. Harbige, BSc PhD, School of Chemical and Life Sciences, University of Greenwich, London Metropolitan University UK. His works are proudly kept by the US National Library of Medicine and other Institutes Of Health.
Hemp Seed Oil is a whole-food product made from cold pressing hemp seeds to extract the oil. Hemp Seed Oil can be used in a wide range of recipes, consumed on its own as a dietary supplement, applied topically as a moisturizing oil, or even used in some industrial applications.
 We believe our hemp seed oil is one of the best, if not the best in the world and here's why: The particular strain of cannabis sativa plant we use can only be grown in an ideal colder climate which produces extra amino acids & fatty acids (Like cold water fish such as Salmon). Also our hemp seed oil has less than 5% seed husk, whereas many other oils worldwide have up to 50% seed husk. Our hemp seed oil is extra virgin and cold pressed, so we have no need for the use of Hexane as a solvent to extract the oil. Hexane is a chemical commonly extracted from petroleum and crude oil and can cause a variety of concerning issues. Some other Hemp Seed Oil brands on the market are using Hexane so beware: "Oil's Ain't Oil's My Friend." Last but not least, the complete growing, production & supply chain involves no Major Corporations. Only Australian & Canadian family businesses, companies or trusts.
The dark colour of Aussie Legends Hemp Seed Oil attests to the cold-pressing process and the absence of Hexane or chemical solvents. Cold-pressed from a proprietary variety of THC-free hemp seeds. THC-free means you won't get high and you won't get into trouble driving your car or have any problem passing a drug test.